2023 Cadillac Lyriq Interior, Specs, Release Date & More

Contact Us To Reserve The Cadillac Lyriq
The 2023 Cadillac Lyriq launches the brand you love into an emission-free and luxurious future. With the Cadillac Lyriq release date fast approaching, Jim Ellis Cadillac is proud to be your ultimate source for insider information & reservations. Spoiler alert: Reservations open for the 2023 Cadillac Lyriq on September 18th at 4:00. Want one? Read on!
The 2023 Cadillac Lyriq introduces luxury and technology that isn't found on any other Cadillac vehicle. Get ready to be impressed. Get ready to charge into an electrified future. Keep your eye on our new Cadillac inventory for early arrivals and get ready to take your 2023 Cadillac Lyriq home. She's coming sooner than you think!
Cadillac Lyriq Specs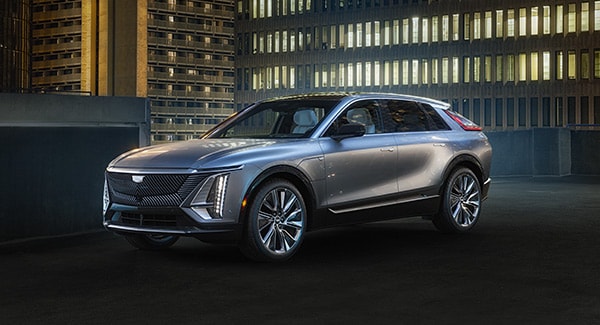 Some fun trivia. Did you notice that the nameplate for the 2023 Cadillac Lyriq ends in "IQ?" It's by design. All future EV models from Cadillac will have names that end in "IQ," as the OEM believes electrification is the more intelligent solution to sustainable mobility.
The 2023 Cadillac Lyriq introduces the expandable battery architecture that all other Cadillac EVs will use. The Ultium Battery will charge faster, last longer, and deliver increased performance over the batteries used in EVs today. To cope with the demand of 30 new EVs put on the road this decade, Cadillac has opened two production facilities right here in the USA. Cadillac is reducing its carbon footprint and putting America to work. Now that's smart.
First-run models of the 2023 Cadillac Lyriq will be rear-wheel drive and are expected to produce 340 horsepower with a range of over 300 miles on a full charge.1 All vehicles will be DC fast-charge ready and are expected to recharge at a rate of about 75 miles every 10 minutes. Cadillac also said that first run models will come with an advanced home charger capable of faster charge times. This home charger will be available as an option with later models.
Not to worry, though. Special equipment is not necessary to charge your 2023 Cadillac Lyriq. You can use any conventional wall outlet with the provided cables.
Iconic Cadillac Through & Through
Cadillac is known for its rank as one of America's finest luxury brands. Innovation, unapologetic sculpting, and dynamic good looks are the name of the game. The Cadillac Lyriq interior is truly a show-stopper. With a driver-centric 33" digital display, you'll be surrounded by controls and essential driver information.
Inaugural models will be available in silver or black (with the same colors available on the interior). The 2023 Cadillac Lyriq will also showcase Super Cruise capabilities with the key feature of changing lanes all on its own. Many upgrades are planned for the model, and Cadillac has said they'll be available as OTA (over-the-air) software updates. That's like going to the speed shop for performance upgrades without having to go to the speed shop!
If you're interested in experiencing Super Cruise technology now, explore our current list of new specials. You don't have to wait until tomorrow to experience what's available from Cadillac today.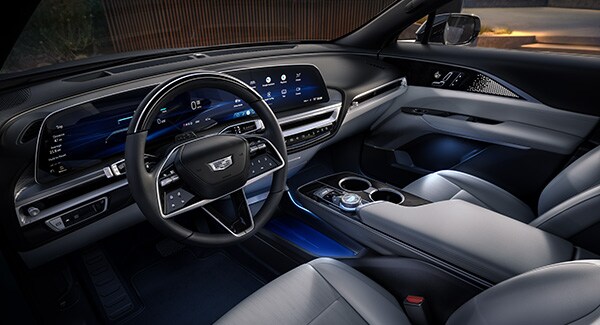 2023 Cadillac Lyriq Pricing, Leasing & FAQs
According to Cadillac, the entry point of the four trim levels available for the 2023 Cadillac Lyriq is promised to be under $60,000.2 How far will that figure stretch the Cadillac Lyriq price range on top models? Cadillac has also said that the 2023 Cadillac Lyriq will be competitive with the Jaguar I-Pace and Audi E-Tron. Make sure to contact us for a reservation and updates on pricing.
When is the 2023 Cadillac Lyriq release date?
The first order call is expected to open early this fall, with production beginning later in the year. The first orders (including yours, right?) will be delivered in Q1 of 2022 but tagged as 2023 models.
Will the Cadillac Lyriq have self-driving capabilities?
You bet it will. The 2023 Cadillac Lyriq will feature available Super Cruise technology, allowing the Lyriq to change lanes as required.
How fast is the Cadillac Lyriq?
Official testing results have not been released yet. However, rumor has it that the first run of the Lyriq will top out at about 130 mph. As performance editions are released, you can also expect OTA performance upgrades to be made available for purchase.
Jim Ellis Cadillac. Where Visions Come to Life
The Jim Ellis family is proud to offer the Cadillac brand to their exceptional portfolio of brands. As an Army veteran, Ellis took a huge risk when he opened up his first dealership 50 years ago. But the gamble paid off.
Ellis believes to this day that people deserve respect while shopping for any type of vehicle — so don't be surprised if you see him in the showroom. He still cares. He's still involved in our operations. And he loves to see his customers enjoy the same kind of service that he built from the ground up himself.
Stay in touch with us for more information about taking home a Cadillac Lyriq lease. You're always welcome to visit with us in our new showroom, and if you simply cannot wait for the Lyriq to arrive, we'd recommend taking a look at the 2022 Cadillac CT4 Blackwing. If you love cutting-edge performance, the Blackwing won't disappoint. But when has Cadillac ever done that?
1These are not EPA estimates. These are pre-release figures from the OEM. See dealer for more information.
2Price figures are prerelease estimates only. They do not indicate exact pricing from Cadillac or participating retailers.
Request More Info from a Lyriq Specialist